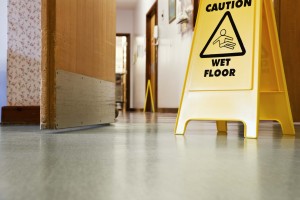 Nursing home residents suffer frequent falls, all too often resulting in permanent disabilities, reduced quality of life and fatality. While physical health often contributes to these falls, many causes are the result of safety hazards, which may have been prevented.
The CDC urges nursing homes to implement fall prevention interventions to protect residents and reduce environmental risks. We have highlighted some of these fall hazards and prevention strategies below. Please view the full report at the CDC.
Why do falls occur more often in nursing homes?

Falling can be a sign of other health problems. People in nursing homes are generally frailer than older adults living in the community. They are usually older, have more chronic conditions, and have more difficulty walking. They also tend to have thought or memory problems, to have difficulty with activities of daily living, and to need help getting around or taking care of themselves. All of these factors are linked to falling.

What are the most common causes of nursing home falls?

Muscle weakness and walking or gait problems are the most common causes of falls among nursing home residents. These problems account for about 24% of the falls in nursing homes.
Environmental hazards in nursing homes cause 16% to 27% of falls among residents.
Such hazards include wet floors, poor lighting, incorrect bed height, and improperly fitted or maintained wheelchairs.
Medications can increase the risk of falls and fall-related injuries. Drugs that affect the central nervous system, such as sedatives and anti-anxiety drugs, are of particular concern. Fall risk is significantly elevated during the three days following any change in these types of medications.
Other causes of falls include difficulty in moving from one place to another (for example, from the bed to a chair), poor foot care, poorly fitting shoes, and improper or incorrect use of walking aids.

How can we prevent falls in nursing homes?

Fall prevention in nursing homes presents multiple challenges. It requires a combination of medical treatment, rehabilitation, and environmental changes. Fall prevention interventions can be implemented at the organizational, staff or patient levels. The most effective interventions address multiple factors or use a multidisciplinary team.

Fall interventions include:

Assessing patients after a fall to identify and address risk factors and treat the underlying medical conditions.
Educating staff about fall risk factors and prevention strategies.
Reviewing prescribed medicines to assess their potential risks and benefits and to minimize use.
Making changes in the nursing home environment to make it easier for residents to move around safely. Such changes include putting in grab bars, adding raised toilet seats, lowering bed heights, and installing handrails in the hallways.
Providing patients with hip pads that may prevent a hip fracture if a fall occurs.
Exercise programs can improve balance, strength, walking ability, and physical functioning among nursing home residents. However, such programs do not appear to reduce falls.
Teaching residents who are not cognitively impaired behavioral strategies to avoid potentially hazardous situations is a promising approach.
Elderly Rights
Advocates for elderly rights and nursing home negligence attorneys at The Murray Law Firm encourage nursing home owners to implement fall intervention programs according to these CDC guidelines. By training staff on fall risk hazards and prevention strategies, implementing environmental safety features, and providing residents with proper exercise programs and behavioral strategies, many fall-related injuries and fatalities may be prevented.
By law, property owners and managers are required to protect residents legally on the premises from any foreseeable harm. This responsibility is paramount when overseeing the health and care of elderly and/or disabled residents who may not be able to care for themselves. Should a nursing home owner or manager fail in this duty, the victim and their family may elect to hold the facility civilly liable for any injuries or wrongful deaths, which occur as a consequence.
We've Recovered Millions for Our Clients…Contact us Now for a Free Consultation.
The Murray Law Firm has extensive and successful experience in representing victims of nursing home abuse and negligence and we offer our legal expertise, if desired.  We typically represent our Clients on a contingency agreement, which generally means that no fees or payments are owed until and unless we recover.  Anyone seeking further information or legal representation is encouraged to contact us via e-mail (click here) or call at 888.842.1616. Consultations are free and confidential.