The National Fire Protection Association (NFPA) warns, "Fires in assembly occupancies have shown to be some of the most deadly when the proper features, systems and construction materials were not present. Nightclubs, theaters and auditoriums differ from office buildings because they contain a large number of people in one main space. NFPA code provisions mandate that a considerable number of safety systems and features be present in order to keep everyone safe should an unwanted fire occur. The level of safety provided is not the result of any single safety system or feature, but rather is achieved through the combination of multiple safeguards that are provided."
New Fire Code Recommendations
In 2003, following a deadly nightclub fire in Rhode Island and a fatal nightclub crowd-crush in Chicago, the NFPA and other fire safety community organizations met to implement emergency changes to fire safety codes in nightclubs and other assembly occupancies. Changes include:
Fire sprinklers in new nightclubs and similar assembly occupancies and in existing facilities that accommodate more than 100
Building owners to inspect exits to ensure they're free of obstructions and to maintain records of each inspection
The presence of at least one trained crowd manager for all gatherings, except religious services. For larger gatherings, additional crowd managers are required at a ratio of 1:250
Prohibit festival seating for crowds of more than 250 unless a life-safety evaluation approved by the authority having jurisdiction has been performed. Festival seating, according to NFPA 101®, is a form of audience/spectator accommodation in which no seating, other than a floor or ground surface, is provided for the audience to gather and observe a performance
NFPA Nightclub Safety Tips
Before you enter:
Take a good look. Does the building appear to be in a condition that makes you feel comfortable? Is the main entrance wide and does it open outward to allow easy exit? Is the outside area clear of materials stored against the building or blocking exits?
Have a communication plan
Identify a relative or friend to contact in case of emergency and you are separated from family or friends.
Plan a meeting place
Pick a meeting place outside to meet family or friends with whom you are attending the function. If there is an emergency, be sure to meet them there.
When you enter:
Locate exits immediately
When you enter a building you should look for all available exits. Some exits may be in front and some in back of you. Be prepared to use your closest exit. You may not be able to use the main exit.
Check for clear exit paths
Make sure aisles are wide enough and not obstructed by chairs or furniture. Check to make sure your exit door is not blocked or chained. If there are not at least two exits or exit paths are blocked, report the violation to management and leave the building if it is not immediately addressed. Call the local fire marshal to register a complaint.
Do you feel safe?
Does the building appear to be overcrowded? Are there fire sources such as candles burning, cigarettes or cigars burning, pyrotechnics, or other heat sources that may make you feel unsafe? Are there safety systems in place such as alternative exits, sprinklers, and smoke alarms? Ask the management for clarification on your concerns. If you do not feel safe in the building, leave immediately.
During an emergency:
React immediately
If an alarm sounds, you see smoke or fire, or other unusual disturbance immediately exit the building in an orderly fashion.
Get out, stay out!
Once you have escaped, stay out. Under no circumstances should you ever go back into a burning building. Let trained firefighters conduct rescue operations. (Source: NFPA)
We've Recovered Millions for Victims of Nightclub Security and Safety Negligence…Contact us Now for a Free Consultation.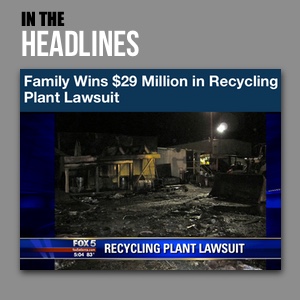 The Murray Law Firm has an extensive and successful record representing victims of nightclub security and safety negligence. We have recovered millions of dollars for our Clients, and we recently obtained a $29.25 million dollar verdict for a victim of an unsafe property. We offer our legal assistance, if desired.
We represent our Clients on a contingency agreement, which generally means that no fees or payments are owed until and unless we recover.  Anyone seeking further information or legal representation is encouraged to contact us via e-mail (click here) or by telephone at 888.842.1616. Consultations are free and confidential.

---
Choosing the Right Attorney
Selecting the right attorney for you or your family is highly important. You must feel confident that the attorney you hire has a complete understanding of the law applicable to your particular case, and has successful experience in handling such cases.
Important: Do not hire a lawyer who has violated the Rules of Professional Conduct!!!
You should not hire an attorney who calls you or visits you unsolicited, or anyone that contacts you directly to offer legal services. This activity is strictly prohibited by Rule 7.3 of the American Bar Association (ABA) Model Rules of Professional Conduct, which states as follows:

A LAWYER "SHALL NOT" CONTACT A PROSPECTIVE CLIENT THROUGH A "LIVE TELEPHONE" OR AN "IN-PERSON" VISIT.
– RULE 7.3, ABA MODEL RULES OF PROFESSIONAL CONDUCT.
If an attorney, or someone acting on behalf of an attorney, contacts you in this manner, that attorney is in violation of this Rule. This unethical and unprofessional activity on the part of the lawyer is good sign that you should stay away. It is imperative that you are represented by an attorney who is capable of advocating for you within the confines of the law, and an attorney who fails to abide by the Rules of Professional Conduct is probably not the best fit. In fact, any such attorney should be immediately reported to the local State Bar Association. If you have been contacted in such an unsolicited manner, contact us and we'll assist you in filing a report.
Contingency Fees Disclaimer: "Contingent attorneys' fees refers only to those fees charged by attorneys for their legal services. Such fees are not permitted in all types of cases. Court costs and other additional expenses of legal action usually must be paid by the client."