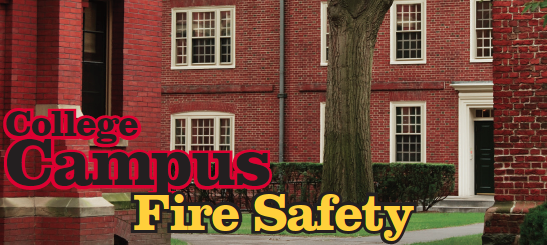 College students living in on-campus dormitories or apartments need to be aware of potential fire hazards in their building and how to react in case of emergency. The National Fire Prevention Agency (NFPA) warns, "educating students on what they can do to stay safe during the school year is important and often overlooked." As such, the NFPA has developed safety tips, particularly addressing fire hazards in dormitories and off-campus housing.
NFPA Safety Tips
Look for fully sprinklered housing when choosing a dorm or off-campus housing.
Make sure you can hear the building alarm system when you are in your dorm room.
If you live in a dormitory, make sure your sleeping room has a smoke alarm, or your dormitory suite has a smoke alarm in each living area as well as the sleeping room. For the best protection, all smoke alarms in the dormitory suite should be interconnected so that when one sounds, they all sound.
If you live in an apartment or house, make sure smoke alarms are installed in each sleeping room, outside every sleeping area, and on each level of the apartment unit or house. For the best protection, all smoke alarms in the apartment unit or house should be interconnected so that when one sounds, they all sound.
Test all smoke alarms at least monthly.
Never remove batteries or disable the alarm.
Learn your building's evacuation plan and practice all drills as if they were the real thing.
If you live off campus, have a fire escape plan with two ways out of every room.
When the smoke alarm or fire alarm sounds, get out of the building quickly and stay out.
Stay in the kitchen when cooking.
Cook only when you are alert, not sleepy or drowsy from medicine or alcohol.
Check with your local fire department for any restrictions before using a barbeque grill, fire pit, or chimenea.
Check your school's rules before using electrical appliances in your room.
If you smoke, smoke outside and only where it is permitted, Use sturdy, deep, non-tip ashtrays. Don't smoke in bed or when you've been drinking or are drowsy.
Burn candles only if the school permits their use. A candle is an open flame and should be placed away from anything that can burn. Never leave a candle unattended. Blow it out when you leave the room or go to sleep.
Know Your Rights
Dormitory and apartment residents have a right to feel safe and secure while in the community. By law, property owners are required to protect all residents legally on the premises from any foreseeable harm. Should the property owner fail to provide adequate safety measures, they may be held civilly liable for any injuries or wrongful deaths which occur as a consequence.
We Fight for Victims of Property Safety Negligence…Contact us Now for a Free Consultation.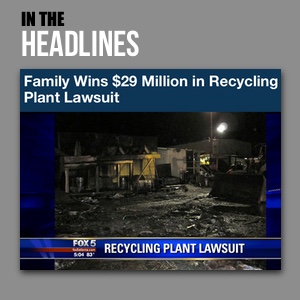 The Murray Law Firm has recovered millions of dollars for victims of unsafe properties, and recently obtained a $29.25 million dollar verdict for one of our Clients.
We represent our Clients on a contingency agreement, which generally means that no fees or payments are owed until and unless we recover. Anyone seeking further information or legal representation is encouraged to contact us via e-mail (click here) or by telephone at 888.842.1616. Consultations are free and confidential.

---
Choosing the Right Attorney
Selecting the right attorney for you or your family is highly important. You must feel confident that the attorney you hire has a complete understanding of the law applicable to your particular case, and has successful experience in handling such cases.
Important: Do not hire a lawyer who has violated the Rules of Professional Conduct!!!
You should not hire an attorney who calls you or visits you unsolicited, or anyone that contacts you directly to offer legal services. This activity is strictly prohibited by Rule 7.3 of the American Bar Association (ABA) Model Rules of Professional Conduct, which states as follows:

A LAWYER "SHALL NOT" CONTACT A PROSPECTIVE CLIENT THROUGH A "LIVE TELEPHONE" OR AN "IN-PERSON" VISIT.
– RULE 7.3, ABA MODEL RULES OF PROFESSIONAL CONDUCT.
If an attorney, or someone acting on behalf of an attorney, contacts you in this manner, that attorney is in violation of this Rule. This unethical and unprofessional activity on the part of the lawyer is good sign that you should stay away. It is imperative that you are represented by an attorney who is capable of advocating for you within the confines of the law, and an attorney who fails to abide by the Rules of Professional Conduct is probably not the best fit. In fact, any such attorney should be immediately reported to the local State Bar Association. If you have been contacted in such an unsolicited manner, contact us and we'll assist you in filing a report.
Contingency Fees Disclaimer: "Contingent attorneys' fees refers only to those fees charged by attorneys for their legal services. Such fees are not permitted in all types of cases. Court costs and other additional expenses of legal action usually must be paid by the client."