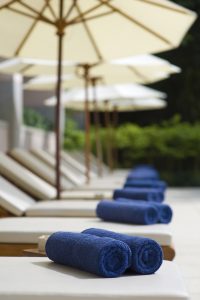 Many families will be visiting hotel pools and spas during their summer vacation. While, zero-degree entry, waterslides, and hot tubs may be on the list of must-have hotel pool amenities, safe drainage and a recent inspection report are probably not.
Hotel and spa owners are required to follow state and federal regulations and to protect their guests from any foreseeable harm. Unfortunately, thousands of pools and hot tubs were closed last year due to serious violations, per recent CDC reports.
Pool Safely, an initiative of the  U.S. Consumer Product Safety Commission, urges families to ask the following questions before visiting a commercial pool or spa:
Having the Appropriate Equipment
Are there fences that limit access to the pool and spa?
Has the pool or spa been inspected to ensure it is compliant with federal and local laws and regulations?
Are the new safety drain covers being used in compliance with the Virginia Graeme Baker Pool & Spa Safety Act?
Do pool and spa pumps appear to be running?
Is there life-saving equipment such as life rings and reaching poles available for use?