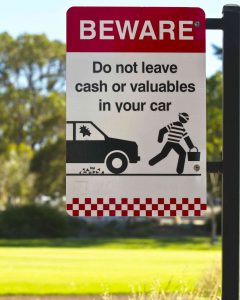 The D.C. Metro Police Department is raising public awareness of "a common crime tactic perpetrated by thieves" at gas stations. "These thieves target unsuspecting vehicle owners when they are pumping gas or paying the tab in the station….A suspect vehicle will drive up next to the victim's auto, quickly open the unlocked door, and grab any easily-accessible items. Then they will just as quickly drive off. It happens in a matter of seconds."
A gas station theft can easily escalate to violence and tragedy when an unsuspecting victim stumbles upon an armed perpetrator. Gas station patrons are urged to follow DCMPD tips on how to avoid becoming a victim:
Pick stations that are well-lit and have video-surveillance cameras at the pump.
Make a list of favorite gas stations along your regular travel routes. Stations near police departments and state police barracks are good choices.
Always remove your keys and lock the car doors while you are pumping gas. If you sense danger and you have a panic button on your car keys, keep your hands on the panic button until help arrives.
Keep valuables out of sight in your vehicle and lock the doors, even if you are going inside for just a moment.
Pick your pump with care. It might be worthwhile to wait for the pump nearest to the attendant or building.
Pay attention to your surroundings.
Don't be distracted by your cell phone.
Victims of Gas Station Violence: Know Your Rights
Gas station patrons have a right to feel safe and secure while on the premises of the establishment they are visiting. By law, Georgia property owners are required to protect all patrons legally on the premises from any foreseeable harm. For example, should a gas station owner have knowledge of prior violence on or near property, they have a responsibility to implement additional security precautions to protect patrons and deter such crime. Additional security measures may include bright lighting, a security guard or off-duty police officer, surveillance cameras, and bulletproof pass-through windows for cash transactions. Should a gas station owner or manager fail in this critical responsibility, they may be held civilly liable for any injuries or wrongful deaths which occur as a consequence.
Can I Afford an Attorney?
Our Clients frequently come in concerned that they won't be able to afford legal help. We believe everyone has a right to exceptional legal service. We represent our Clients on a contingency agreement, which generally means that no fees or payments are owed until and unless we recover. This means our interests are always tied to that of our Clients. Be sure to ask any potential personal injury attorney about their fee schedule and whether they represent Clientele on a contingency basis before signing a contract.