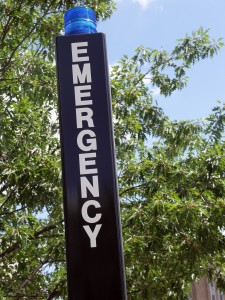 Every college campus safety policy is different, so parents and students should  thoroughly research a potential institution's policies before enrollment. US News & World Report urges parents and students to ask 10 Questions:
1. What is the college doing to cultivate a safe campus?

If parents and prospective studnets make campus safety a priority, it will require universities to raise their standards and make it a priority as well, experts say.

2. How does the school communicate with students in an emergency?

Schools may use different methods, such as emails, texts, display signs on campus or sirens to alert students during an emergency. Ideally, universities should have a plan that allows them to alert students even when they're out of cellphone or Internet range. Learn whether students need to opt in or out of notification programs and if parents are allowed to sign up for updates.

3. Are there police stationed on campus, or does the university rely on its own security team, with city or county police stations off campus?

Prospective students should know if campus safety is monitored by private security or police and how the security team coordinates with off-campus police when a crime occurs.

4. Who investigates an allegation of sexual assault or sexual harassment at the university?

"The goal is to know that the college would handle the investigation – period – and it's important for them to know who the Title IX coordinator is and to whom a student could complain if a student had a concern," says Catherine Lhamon​, assistant secretary for civil rights at the U.S. Department of Education.

Students should understand how schools handle reports made online or through campus abuse hotlines. Families should also know what procedures schools have in place to provide confidentiality for the accuser and ensure the victim and the rest ​of the student body are safe, legal experts say.

5. What training does the disciplinary board receive about how to conduct a sexual assault investigation?

Online training can be a faster and easier way to meet the legal requirements for sexual violence training, but in-person training is preferable, experts​ say….Parents and students should expect their schools to ​offer training given by former sexual assault investigators such as sexual assault prosecutors and sexual assault unit detectives, he says….

6. What prevention programs do you have to educate students about safety?

Ideally, schools should offer ​bystander intervention​ – programs that teach students how to step in when they see another student in trouble – ​to students throughout their college career​, the Victim Rights Law Center's Bruno says.​ A comprehensive program includes tips for risk reduction and prevention strategies, and suggestions for how bystanders can intervene and remain safe.

7. How do you protect students who live off campus?

If there is a chance that a prospective student won't live on campus all four years, families should ask schools if they offer students help finding safe, reliable off-campus housing. Some schools have entire departments dedicated to helping students find off-campus housing, and some provide legal services to help students with housing agreements, experts say.​

8. Is there an on-demand transportation service frequently used by students?

Some schools have stand-alone​​ programs, agreements with local taxi services or expect students to rely on local transportation, such as a city bus or subway system, if they're out late or leave the campus for community activities.​​​ Students should know the service's operating hours and how far outside campus it picks up students.​

9.  Is alcohol and drug abuse a significant issue on campus? How do you handle violations? 

Violation statistics can be found in the annual security report, but prospective students should understand campus policies for alcohol and drug use and how violations are handled. Experts say in addition to talking to university officials​, prospective students can ask current students during college tours for an idea of the campus culture regarding alcohol and drug use and abuse.

10. How will you​ protect students during a natural disaster​?

Crime and alcohol and drug abuse are obvious safety hazards, but families should also consider how schools prepare for natural disasters. Schools should explain how they coordinate with local authorities, such as the police and fire department, what evacuation plans are in place and how often their systems and safety plans are tested, security experts say.

Read Full Article Here
Know Your Rights
College students have a right to feel safe and secure while on premises. By law, colleges and universities are required to protect all students legally on the premises from any foreseeable harm.
We've Recovered Millions for Victims of  Security Negligence…Contact us Now for a Free Consultation.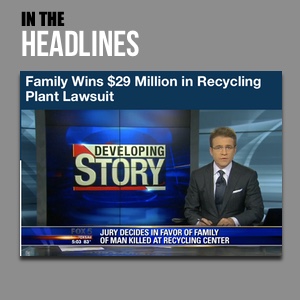 The Murray Law Firm has an extensive and successful record representing victims of violence and security negligence. We have recovered millions of dollars for our Clients, and we recently obtained a $29.25 million dollar verdict for a victim of an unsafe property. We offer our legal assistance, if desired.
We represent our Clients on a contingency agreement, which generally means that no fees or payments are owed until and unless we recover.  Anyone seeking further information or legal representation is encouraged to contact us via e-mail (click here) or by telephone at 888.842.1616. Consultations are free and confidential.

---
Choosing the Right Attorney
Selecting the right attorney for you or your family is highly important. You must feel confident that the attorney you hire has a complete understanding of the law applicable to your particular case, and has successful experience in handling such cases.
Important: Do not hire a lawyer who has violated the Rules of Professional Conduct!!!
You should not hire an attorney who calls you or visits you unsolicited, or anyone that contacts you directly to offer legal services. This activity is strictly prohibited by Rule 7.3 of the American Bar Association (ABA) Model Rules of Professional Conduct, which states as follows:

A LAWYER "SHALL NOT" CONTACT A PROSPECTIVE CLIENT THROUGH A "LIVE TELEPHONE" OR AN "IN-PERSON" VISIT.
– RULE 7.3, ABA MODEL RULES OF PROFESSIONAL CONDUCT.
If an attorney, or someone acting on behalf of an attorney, contacts you in this manner, that attorney is in violation of this Rule. This unethical and unprofessional activity on the part of the lawyer is good sign that you should stay away. It is imperative that you are represented by an attorney who is capable of advocating for you within the confines of the law, and an attorney who fails to abide by the Rules of Professional Conduct is probably not the best fit. In fact, any such attorney should be immediately reported to the local State Bar Association. If you have been contacted in such an unsolicited manner, contact us and we'll assist you in filing a report.
Contingency Fees Disclaimer: "Contingent attorneys' fees refers only to those fees charged by attorneys for their legal services. Such fees are not permitted in all types of cases. Court costs and other additional expenses of legal action usually must be paid by the client."