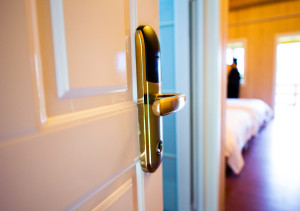 The American Hotel & Lodging Association (AHLA) reminds us, it is all too easy for a hotel vacation or business trip to turn to tragedy. While hotel and motel security begins with the owner and management, these basic guest safety guidelines may reduce guests' risk of becoming a victim of theft or assault:
Guest Safety Tips
Don't answer the door in a hotel or motel room without verifying who it is. If a person claims to be an employee, call the front desk and ask if someone from their staff is supposed to have access to your room and for what purpose.
Keep your room key with you at all times and don't needlessly display it in public. Should you misplace it, please notify the front desk immediately.
Close the door securely whenever you are in your room and use all of the locking devices provided.
Check to see that any sliding glass doors or windows and any connecting room doors are locked.
Don't invite strangers to your room.
Do not draw attention to yourself by displaying large amounts of cash or expensive jewelry.
Place all valuables in the in-room safe or safe deposit box.
When returning to your hotel or motel late in the evening, be aware of your surroundings, stay in well-lighted areas, and use the main entrance.
Take a few moments and locate the nearest exit that may be used in the event of an emergency.
If you see any suspicious activity, notify the hotel operator or a staff member.
Read the full AHLA safety guidelines.
Selecting a Safe Hotel or Motel
The Murray Law Firm represents victims of hotel and motel violence and security negligence. We urge guests to look for the following security measures and access controls when selecting a hotel or motel:
Bright lighting in all parking areas, outdoor walkways, indoor hallways, and common areas.
Surveillance cameras and 24-hour security patrols.
Building access controls, such as an entry gate, security guard, guest card controlled entry to all buildings and common areas.
Hotel room access controls, such as a deadbolt lock, a door viewer, a steel frame door, window locks, and a security bar for any sliding patio doors.
Call the local police department if you'd like to check on crime reports for a particular property.
Hotel and motel owners and managers are required by law to provide a safe premises for all guests legally on their property and to prevent foreseeable third-party criminal attacks, such as rapes, shootings, assaults, or robberies. For example, should a proprietor have reason to anticipate a criminal act based on knowledge of a security lapse or a previous crime on or near property, he or she then has a duty to exercise ordinary care to deter such crime and protect those legally on their premises from harm.
We Fight for Victims of Hotel and Motel Security Negligence…Contact us Now for a Free Consultation.
The Murray Law Firm has recovered millions of dollars for victims of hotel violence and security negligence, and we offer our legal assistance if desired.  We represent our Clients on a contingency agreement, which generally means that no fees or payments are owed until and unless we recover. Anyone seeking further information or legal representation is encouraged to contact us via e-mail (click here) or by telephone at 888.842.1616. Consultations are free and confidential.